pista
. Not since I was a kid, at least.
The last
pista
I remember going to was in a small town in Baras, Rizal. I was still a kid back then. From the very few things I recall, the one thing that stands out is this palpable "pista" air. People were on the streets, decorating their homes, cooking their
handa
with their big casseroles and woks. It was joyous and somehow, it was all very
Pinoy
.
Thankfully, I got to breathe that air again last week. A football teammate of mine was from the Quezon province. And around mid-May, a little town in the province, Lucban, explodes into all things bright and colorful into what is now known throughout the country as the
Pahiyas Festival
.
We left the city really early, around 3 a.m., passing through the eastern route (the Rizal-Laguna-Quezon highway). This proved to be a very wise decision. Had we taken the southern route (the SLEX route), we would have been stuck in traffic and the drive that usually took three hours would have become seven.
We got into town really early and dove right in. We had breakfast at a place called
Buddy's
. I had Longganisa Lucban in Lucban! Nothing can really compare to that. I enjoyed the food even though the place was packed. Literally. Well, the whole town was already packed. And it was only 7 a.m.
After breakfast, it was time for the walkathon. That was the only way to see all the Pahiyas-decorated houses in town, really. You had to walk through Lucban's small and narrow streets. Might as well really. A van, a car or even a trike would not do you any good. The streets are littered with people.
I like that my teammate knew where to start walking. We started with the big Spanish Lucban church, of course, and wound our way through the town going from very rustically-decorated houses to big, bright and rainbow-colorful three-story buildings.
It was all very festive. Every part of the family, even those from out of town, of course, got into the
pista
atmosphere. It helped that thousands of tourists, including us, were there celebrating with the locals.
Around midday, we were tired from the walking. We were not really that hungry. We were munching on the street foods while we did the walkathon: from cotton candy, to
pancit habhab
, to
samalamig
drinks and even strawberry-flavored
scramble
.
Since our ride was parked way out of town (since it was impossible to park inside the town), we still had to walk another kilometer or so. From there, we headed to Sariaya, to the coast of Quezon. I will admit. The sea on this part of the country is not that picturesque. Still, it was the first time I met the Pacific Ocean. It was saying hello. It'd be rude if I just walked away, wouldn't it?
~ 0 ~
More photos in my Flckr set: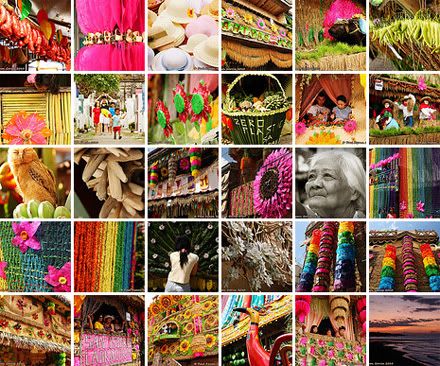 Hi there, traveler! Did you like this post? Got any comments? Do leave me a message below. A
RETWEET
or a
LIKE
would be very much appreciated, too. Sharing buttons can be found at the beginning of this post and below.
You can also subscribe to this site to get new posts via email: